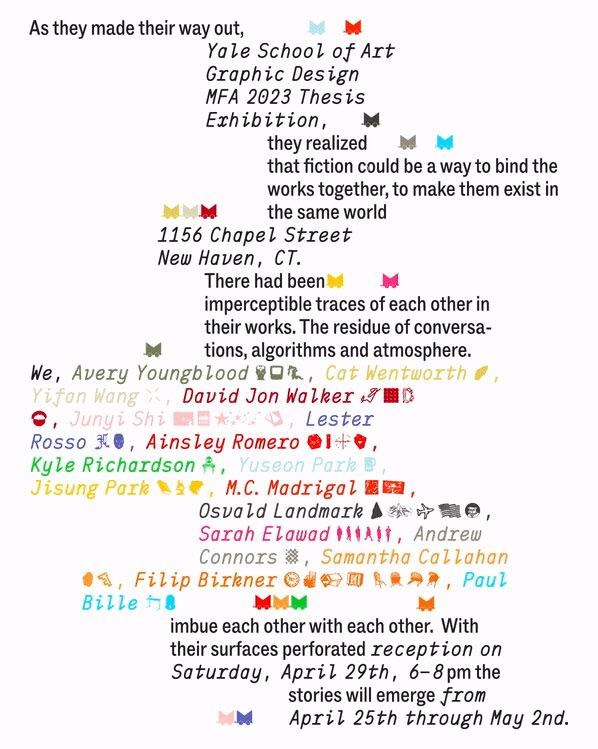 Green Hall Gallery, 1156 Chapel Street, New Haven, CT
Gallery Hours: Monday-Friday 10AM - 6PM, Saturday 12PM to 4PM.
"As they made their way out, Yale School of Art Graphic Design MFA 2023 Thesis Exhibition, they realized that fiction could be a way to bind the works together, to make them exist in the same world 1156 Chapel Street New Haven, CT. There had been imperceptible traces of each other in their works. The residue of conversations, algorithms, and atmosphere. We, Avery Youngblood, Cat Wentworth, Yifan Wang, David Walker, Junyi Shi, Lester Rosso, Ainsley Romero, Kyle Richardson, Yuseon Park, Jisung Park, M.C. Madrigal, Osvald Landmark, Sarah Elawad, Andrew Connors, Samantha Callahan, Filip Birkner, Paul Bille imbue each other with each other. With their surfaces perforated reception on Saturday, April 29th, 6–8 pm the stories will emerge from April 25th through May 2nd…"
This exhibition is created by Filip Birkner, Sarah Elawad, Jisung Park, Ainsley Romero, Junyi Shi, and David Jon Walker, Graphic Design M.F.A '23.

Receptions are open to the public. All visitors must be fully vaccinated(including boosters if eligible) and should be prepared to provide their vaccine card if requested.
Masks are recommended but not required in the gallery.
During all other gallery hours, exhibitions are only open to the Yale Community (current ID holders) and their invited accompanied guests.